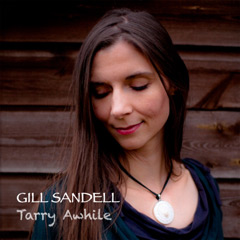 Debut album
Tarry Awhile
This debut collection of 12 songs includes covers of Natalie Merchant's Motherland and of John Douglas's Wild Mountainside. All other songs are by Gill Sandell.
Musicians: Gill Sandell, Emily Barker, Jon Clayton, Ed Hopwood, Rupert Hunt, Anna Jenkins, Andrew Rayner, Chris T-T and Owen Turner.
Released: 12 November 2010 > REVIEWS
12-track album in a Digipak, with a 12-page booklet containing lyrics of all the songs, album credits, and photos by Jay Williams and others. The CD purchase includes immediate download of album in a choice of formats.
"A sweet and tender album. A rare beauty.." Allan Wilkinson, Northern Sky
"It's a very chilled album... There's something really refreshing about Gill Sandell's voice." FATEA
"From the first track you can tell this is an accomplished musician." Alice Sage, For Folk's Sake
"... confidently overlaying all with her breathlessly pretty voice." R2 *** (Rock n Reel)