Gill Sandell has developed rapidly as an independent singer/songwriter and guitarist in the last few years. She also plays accordion and flute, and sings backing vocals, as part of Emily Barker & The Red Clay Halo, and collaborates regularly with other musicians and bands. Her debut album Tarry Awhile has contributions from fellow bandmembers of The Red Clay Halo, Timothy Victor's Folk Orchestra, and Magoo. The second album Light The Boats – released 16 September 2013 – also features guest appearances from Adrian Crowley and Chris T‑T. Her lyrical modernist folk and sweet delivery conceal a dry wit and some darkly complex and carefully nuanced songwriting.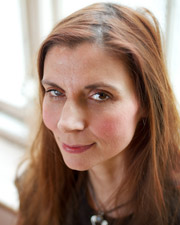 Gill Sandell grew up in Hertfordshire, England, and comes from a musical family. Classically trained in piano and flute, she studied music to degree level at Bretton Hall in West Yorkshire. It was at Bretton that she was introduced to the accordion, when she was asked to collaborate on a Cajun music project.
Moving to London, she played keyboards alongside friends and bandmates in Blusher – Jon Clayton, Jen Macro, Ian Cotterill and Stuart Ansell – and the band's two EPs attracted interest from BMG and EMI (the band was managed for six months by Ricky Gervais, before he decided his future lay elsewhere).
At the same time she was developing her accordion skills with The Folk Orchestra – later to become Timothy Victor's Folk Orchestra – whose founder members included Timothy Victor, Rupert Hunt, Matt Hutchinson, Chris T-T and Mary Epworth.
Through gigs in London and Cambridge, Gill became friends with The Broken Family Band and appears on several of their albums. She has also joined them over the years at the Cambridge Folk Festival, Glastonbury, the Larmer Tree Festival and in other gigs, and continues to enjoy playing with them from time to time.
It was in 2004 that Gill met Emily Barker at the Cambridge Folk Festival, an encounter that provided the seed for Emily Barker & The Red Clay Halo in which Gill is now a permanent member, performing and touring extensively.
Over the last dozen or more years Gill has recorded and gigged with Magoo (on keyboards, flute and accordion) and with Chris T-T, and now also plays accordion and other instruments with Buzzard Lope. She played on a number of 'Peel Sessions' for the late great John Peel, with Magoo, Chris T-T and The Broken Family Band.
Gill's 2010 debut album Tarry Awhile includes contributions from musicians in all of these bands, and draws inspiration from the variety of music that they offer. Two of the tracks have since been remixed and issued as Limited Edition 7" vinyl singles, together with new songs as B sides. The 11 new songs of Gill's second album Light The Boats, released in September 2013, build on the style and excellent reception of Tarry Awhile.
Despite a busy schedule Gill is often available for session work on accordion, keyboards, guitar, flute and BVs. Please contact gill@gillsandell.com