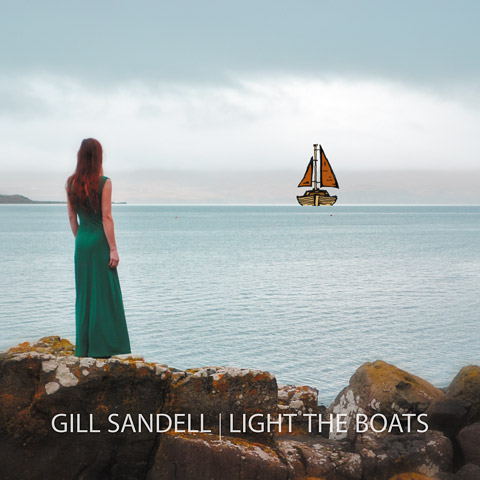 the second solo album
Light The Boats
Gill's second solo album features 11 new songs written during the two and a half years since Tarry Awhile, and was recorded over the winter of 2012/13. Many tracks have had radio airplay, by Cerys Matthews, Bob Harris and Dermot O'Leary among others. The album was a Folk Radio UK 'Featured Album of the Month', and was chosen as one of FRUK's Best Albums of 2013.
Gill toured songs from the new album – and more – from Teesdale to the West Country to a sold-out launch party at the Green Note in London. And one great result of the tour, by popular demand, was the live-session The Sickle Swing EP.
Musicians: Gill Sandell, Emily Barker, Ted Barnes, Jon Clayton, Adrian Crowley, Ben Eshmade, Ali Friend, Stacy Gow, Anna Jenkins, Jen Macro, Rory McVicar, Liz Moore, Andrew Rayner, Jo Silverston, Chris T-T, Owen Turner, Timothy Victor.
Released: 16 September 2013 > REVIEWS
11-track album in a Digipak, with a 16-page booklet containing lyrics of all the songs, album credits, and creative illustrations by artist and musician Andrew Rayner. The CD purchase includes immediate download of the album in a choice of formats.
"This is gorgeous, what a beautiful record." Bob Harris, BBC Radio 2
"Impeccable folk music for today." Alan Cackett, Maverick ****
"Poetic lyrics woven with expertly arranged compositions ..." Hannah Corbett, for folk's sake
"A clear-sighted and eerily fresh-sounding collection of new songs" David Kidman, NetRhythms
"A beautiful sounding record, beautifully sung and arranged." Cerys Matthews, BBC 6 Music
"it's a gorgeous tapestry of ethereal folk vignettes... a very impressive album" MusicMuso ****
"Light The Boats must surely rank amongst the year's best records" Helen Gregory, Folk Radio UK
"Light The Boats is an exquisitely written and performed album..." Neil King, FATEA
"A delicate sense of atmosphere throughout... An exquisite album."Allan Wilkinson, Northern Sky
BEHIND THE MUSIC • READ GILL'S IN-DEPTH INTERVIEW WITH SIMON HOLLAND AT FOLK RADIO UK