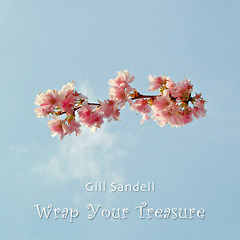 Limited Edition 7-inch vinyl single
Wrap Your Treasure
The uplifting Wrap Your Treasure from Tarry Awhile is the A side of this 7-in vinyl single. And on the B side, Gill's cover of the great 1940s hit You Always Hurt the One You Love evolves from delicate harmonium and piano into a dramatic, theremin-enriched soundscape.
Musicians: Gill Sandell, Emily Barker, Anna Jenkins, Andrew Rayner and Owen Turner.
Released: 20 June 2011, and still available!
A Limited Edition of 500 copies. Heavyweight vinyl in a quality sleeve, with photographs by Jackie Sandell. Available now through Bandcamp. Ships in 5 days.
"a folk-pop vibe... with accordion lines, impressive fiddle and ethereal harmonies." Maverick ****
"uplifting and optimistic... foot-tapper with a light pop sensibility." Northern Sky
"bees, doves and wilting flowers surface on the upbeat, rather lovely, chugging Wrap Your Treasure." NetRythms
Track list:
A

Wrap Your Treasure
Andyray (drums, percussion); Anna (backing vocals, violin);
Emily (backing vocals); Gill (vocals, accordion, acoustic guitar, piano);
Owen (bass, tambourine)

Listen on Bandcamp
3:35
B

You Always Hurt the One You Love
by Allan Roberts / Doris Fisher
Andyray (vocals, drums, percussion); Gill (vocals, harmonium, piano);
Owen (vocals, electric guitar, theremin)

Listen on Bandcamp
4:43