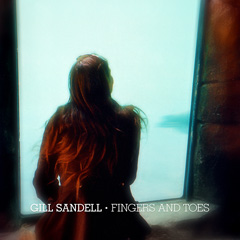 Limited Edition 7-inch vinyl single
Fingers and Toes
Fingers and Toes is the second single taken from Gill's debut album Tarry Awhile. The song has been revisited and remixed, and adds backing vocals from Jen Macro. On the B side Seventeen Days [Rooms For Sleep] looks ahead to Gill's second album Light The Boats.
Musicians: Gill Sandell, Jen Macro, Andrew Rayner and Owen Turner.
Released: 24 October 2011, and still available!
A Limited Edition of 500 copies. Heavyweight vinyl in a quality sleeve. Available now through Bandcamp. Ships in 5 days.
Track list:
A

Fingers and Toes
Andyray (drums, percussion); Gill (vocals, accordion, acoustic guitar, organ); Jen (backing vocals); Owen (bass, glockenspiel)
3:44
B

Seventeen Days
Gill (vocals, accordion, acoustic guitar);
Owen (backing vocals, bass)
3:45